Submitted by Fiona Beal
On Saturday morning (14th May) I attended the Cape Town Maths Day at Grove Primary along with 50 other teachers. The focus was on exploring Maths digitally so we were asked to bring along a laptop or another suitable device. The program was great. We each received a wonderful goodie bag at registration that included a useful, large Sharp calculator. Throughout the morning we were given great demonstrations and useful Maths tips to try out in our classrooms. Here are my five takeaways
The Maths Day program displayed on the screen

Matific: Incorporating Technology In The Classroom
This was presented by Lynn Ross, the Matific Country Manager. Lynn Ross opened the Matific presentation by enquiring about how teachers felt about using technology in the classroom. The majority felt very nervous about it. They felt their students knew more than they did. Mathific (https://www.matific.com/za/en-za) is a great online Maths program linked to the South African CAPS. It's also available as an iPad or Android app. There is a 30 day trial and a membership costs R120 per year per student. It caters for Grades R – 7. The terminology used for getting around the website is episodes, worksheets, playlists and lesson plans. Here is a screenshot from the Grade 5 category on the website.
This was a great presentation from Lynne Ross – very impressive. I liked this application very much. Below is a slideshow of some of my Matific screenshots.

Sharp Calculators: Calculator Skills For Primary School Maths
This session was presented by Tal Moore, Calculator Support Specialist. This was also a great session. We opened our wonderful calculator gift and played a lot of games one could do in the classroom – drill, tables etc. It really was a fun experience. It made me realise that a teacher can make Maths a load of fun in the classroom. Here are a couple of the tweets I made during the session.

Great dem plus a free calculator from Sharp calculators at the Maths Day pic.twitter.com/mJM7WNOPgP

— Fiona Beal (@fibeal) May 14, 2016
Great calculator fun on our free Sharp calculators at the Cape Town Maths Day pic.twitter.com/9Udc8fVbWO

— Fiona Beal (@fibeal) May 14, 2016

Living Maths: Tech For Techno Peasants
This session was presented by Steve Sherman, who calls himself a Chief Imagination Officer. This was an amazing presentation. Steve Sherman from Living Maths is a invigorating, entertaining presenter who really held everyone's attention throughout. He spoke on gamifying Maths and showed us what fun this process is. This is the first time that I have looked at The Living Maths website, and I discovered that it has so many generously-shared free resources to use under the Resources section. Today's resources were shared via a Symbaloo at https://goo.gl/7kmcJr (This can also found on the Resources section).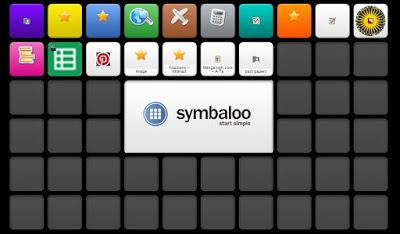 Plenty of fun and many great resources for gamifying Maths content presented by Steve Sherman of Living Maths pic.twitter.com/fGOx5akPir

— Fiona Beal (@fibeal) May 14, 2016

We played Jeopardy, Who wants to be a millonnaire, Kahoot and Plickers, all adapted for Maths. Steve Sherman is also a great photographer and he took loads of photos which he has uploaded to an album on the Living Maths Facebook page https://goo.gl/vKv1qD.
Playing Plickers
Playing Plickers
We wrote product reviews on School Advisor
SchoolAdvisor allows schools to search for, get quotes and rate education suppliers directly. They believe this platform will help you to find the best supplier/product/service to meet your particular need and ensure that you receive the best service – as suppliers are kept accountable by constant reviews and feedback from school decision makers. They have a great competition going at the moment for the prize of an iPad Pro. There is a post about this on the SchoolNet website http://goo.gl/2OhCpI. Duncan Smith from School Advisor took us through writing a review on the SchoolAdvisor site https://www.schooladvisor.co.za/.


The final presentation was from a Grove Primary teacher, Brian, who showed us how he uses Mathific in his classroom.
Brian from The Grove
Then…a lucky draw for a R500 voucher from School Advisor and the day was over! 9am – 11.30am! It was short and sweet but a day well spent.