This is the fifteenth post in the series "MIEExpert Spotlight for South Africa". The tab with all the posts can be found at: http://bit.ly/1ZYy8Z7. Today we focus again on Karen Stadler, our South African Skype guru, who is the Senior Primary Technology Integration Specialist at Elkanah House Senior Primary in Cape Town. She is also a 2016 Microsoft MIEExpert Educator. Karen is well known globally especially for her Travelling Rhino project and her award-winning wiki. In 2015 Karen represented South Africa at the Microsoft Global Forum in Dubai. Follow her on Twitter: @ICT_Integrator
For the second year now, one of our classes has participated in the 24-hour Skype marathon hosted by Beverly Ladd and her Grade 2 students from Pine View Elementary in Wilmington, North Carolina, USA. This year it was the turn of the Grade 5 Pelicans class and as before, it was a huge success!
Beverly started planning this all months ago – I received an email from her in October last year already, and once I had identified a class to participate in the Skype marathon (Skypathon).

Preparation
We were tasked with some preparation too. Out students had to prepare answers to some very thought-provoking questions, and this is where true learning came in. Not only were we going to learn about a class in a country on a continent thousands of kilometres away, but in preparation we were learning about our own community too. The questions posed by Beverly's class were:
How do students at your school get health care, education, and access to clean water in your community or country?
What are the needs or wants of students in your school or local community? How can they be solved in a month from now, a year from now, or twenty years from now? (An example would be fundraiser to help cure diseases.)
Does your community or school receive support from any groups or individuals (i.e. school supplies, volunteers, financial support, etc.)? How does this make your community or school a better place.
What do students at your school do to help protect the Earth? What could students at your school to make a greater impact?
How can we positively take action and make decisions that support and nurture our environment and animals?
What other global issues affect your school/community/country and how can you make a difference now and in the future?
Teach or show something that is unique or special about your culture or your state/country that others should know.
The event
On the day we were blessed with a crystal clear connection – even the visuals were clear. We were very thankful for our upgraded, fast and efficient fibre internet connection. We took turns to share the answers to our questions. We were interested to learn that their communities face many similar challenges as the communities here in our area, such as poverty and homelessness. We found it interesting that they have doctors and nurses at their schools so they can get medical care there, if necessary.
A highlight for us was when the US students sang their National Anthem for us. It was very moving – especially since they were about 20 hours into their 24-hour marathon!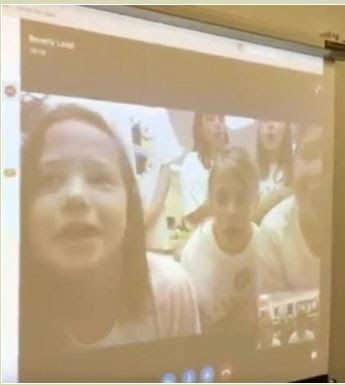 Our students greeted the US students in all 11 official languages and then two of our girls showed them what traditional Zulu dress looks like.
I am now being pressured by our students to host our own Skype marathon, but I'm not sure if I'm up for a 24-hour stint. Twelve hours seems a good starting point. Watch this space!
A huge thanks to Beverly and her students for a very fruitful experience. They had some very tired little bodies, but it was wonderful to experience learning across the miles and around the globe! Here are some more photos taken from our side:
If you would like to read Beverley Ladd's description of this great 24-hour marathon Skype event, her post can be found on the Skype blog: Around the world in 24 hours with Skype in the Classroom http://bit.ly/1YEgMBw
Find out more about using Skype in the classroom
You'll find a number of Skype lessons on the Microsoft Educator Community at http://bit.ly/1VizGOL. Once you are signed in on the Microsoft Educator network type 'Mystery Skype' into the search bar to find teachers wanting to set up a Mystery Skype collaboration. Mystery Skype is when two teachers set up a Skype experience between their classes. The classes have to guess each other's location.
Get involved in the Microsoft MIEE program in 2016/2017
If you are a teacher who likes to be innovative in the classroom, think about entering Microsoft's Innovative Teacher MIEExpert program in 2016/2017 when applications reopen later in the year. You can learn more about the program at this link: http://bit.ly/1H4gKcB on the Microsoft Educator Community.