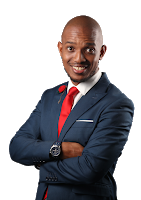 Mr Tshegofatso Matjila of Botsalano Primary School situated in Kagisano Molopo, North West recently placed second in the "Excellence in Technology-Enhanced Education" category of the 19th National Teaching Awards. The teachers placed first, second and third in this category each receive a SchoolNet South African Council for Educator's (SACE) accredited professional development course of their choice for themselves and colleagues at their respective schools. Matjila, as well as the two runners up in his category will also be sponsored to attend the SchoolNet SA Digital Learning Conference, taking place in North West province in June 2019.
Matjila's uses of Technology to Enhance Education
Since incorporating ICT in his Mathematics teaching arsenal, Mr Matjila's learners have become more enthusiastic in attending and participating in his class and there has been a marked improvement in their performance.
"Technology has brought a new and exciting pictorial dimension to my lessons; my learners don't have to depend on their imagination alone anymore as we now use simulation and videos to ensure further understanding of the concepts," he says.
With Botsalano Primary School based in a rural community rife with poverty, a lot of the learners come to school with physical and emotional issues which, according to Mr Matjila, need to be dealt with before any effective learning can take place. He believes in the importance of studying and correctly applying official policies, with a good measure of ubuntu, when solving these challenges.
Producing independent and critical thinkers who would go on to change the world for the better is what keeps him motivated to do his best every day. "Imparting knowledge through quality teaching is important to me. I strive to ensure that excellence is provided for all of my learners, regardless of their social position."
Matjila's advice to colleagues
Mr Matjila's advice to new teachers is to approach teaching as a way of living and not a career, saying "Teaching is not a job, it's a way of living where we need to constantly work hard in order to provide quality teaching to our learners," he concludes.